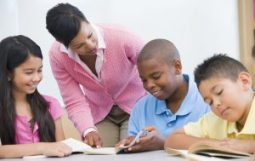 Any Volunteers to Read an Engineering Textbook?
We are still in an interesting place in our field when it comes to student assessment and this culture of accountability. Whether we want to admit it or not, there have been some significant changes to our teaching practices. Decisions are being made, top-down, bottom-up, and even sideways, as everyone searches for the magic pill for what is best for children and teachers.
Re-evaluating Text In The Classroom
Unfortunately, these shifts, although well-intentioned, have siphoned out the FUN in some of our literacy teaching and learning practices. Yes,
F-U-N! FUN
! It's time for an intervention!
Bring the fun back!
Some of the teaching practices in our elementary schools look like middle and high school classrooms which can cause some of our early learners to sometimes not respond positively to reading and writing.
Books Should Be Relevant and Engaging
Sometimes, we, educators, are the first contact in exposing our readers to the idea of what it means to be 'a reader'. We are the initial hook to get our readers excited, engaged and motivated about reading and writing. The next hook is the text that they are presented with to read independently, or shared, or with guidance. Our books should be relevant and engaging to support a reader's motivation, and their identity as a reader. A variety of texts can help readers identify who they are as a reader. For example, they will begin to identify what genres they enjoy, who is their favorite author? Illustrator? and what do they appreciate about the author's style of writing that they would like to use in their own writing?
Fiction and Nonfiction Paired Books With the Same Topic
That is why
Flying Start to Literacy™
has a rich collection of texts that readers will enjoy! You will notice that in this series readers will be exposed to fiction and nonfiction texts that spark their interest in many different areas. Additionally, readers strengthen their oral language and talk deeply about the text such as
Amazing Salamanders and Salamander Surprise
or
Clean Energy and Surviving the Earthquake
. You can already hear your reader's excited voices as they talk about slippery salamanders and rumbling earthquakes!
So as stated earlier, BRING THE FUN BACK with great books! Once readers see reading as a pleasurable and engaging activity they will read often authentically. Thus, readers will strengthen their literacy processing system and their abilities to talk deeply and write deeply about the text.
Text Selection Plays an Important Role in Supporting Student Engagement and Motivation
With your colleagues, have an in-house audit of your text collections. Then rate them with your own rubric to identify the level of fun your text ignites. Try not to focus on what text are your favorite, and get input from your readers. Take informal anecdotal notes on your readers' level of enthusiasm during interactive read alouds, Shared Reading, small group reading, and independent reading. Reflect on your collective data and plan accordingly.