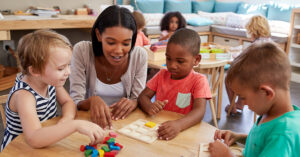 By Nancy Jo Mannix
Are there times when whole group teaching and learning is the best way to engage four- and five-year-old learners? What can teachers do to help children transition from one experience to another?
Let's revisit Claire and Sophia's Pre-K classroom on the second day of school, where they are introducing their little learners to a whole group meeting.
This morning when "Morning Choice" time ends, the teachers play a xylophone to signal it's time to take one minute to finish what they are doing and then put away their materials. The teachers encourage children to clean up and then invite them to find their spot on the whole-group area carpet. Together, they learn a quick clean-up song that's posted on chart paper. They ask children to talk and share about how this routine–hearing the xylophone–will help them remember what to do. They talk about how this helps everyone know what's going to happen and what they need to do. They start to make a list already titled Our Things to Do in Room 114. One of the teacher quickly writes and everyone reads:


We put up our own belongings.


When we hear the xylophone, we have 1 minute to finish our Morning Choice.


It's time to put things back where they belong when we are singing our special clean-up song.


Because the music is queued up and the carpet, chart paper and markers are prepared and ready to use, this part of whole group lasts about five minutes. The co-teachers take a minute or two role-playing how they want the children to hold and turn the pages of their class books. whole group ends with a short, fun movement song and dance. When it's finished, children are asked to find their labeled spots on the line leading to the front door to go out for outdoor play and learning. One of the teachers makes a quick note about the children who chose not to participate in this first whole group meeting. Later, they discuss how they will continue to invite and encourage until everyone joins this fun, positive part of their school day.
Outside, for the third time, children have once again naturally formed small groups–some choosing to ride tricycles on the path, some digging in the sand box, others playing on equipment with friends or alone. A few children have decided to gather sticks and leaves. The teachers are circulating among the children, listening and talking with them. Claire and Sophia have a quick chat and decide that these little learners are ready for teacher-initiated small group learning time.
In Part 3, we'll visit Room 114 for their second week together. Find out how the co-teachers build on the student-initiated small group experiences observed in the first week of school.
Ideas for Increasing Children's Engagement in Whole and Small Group
Incorporate choice throughout the day. Everyone likes to choose, especially little ones whose universe has revolved around them for four years. Providing choice gives children immediate control and instills decision-making practice. It's also simple for teachers to implement. Let children decide if they will work with others. (Remember: a party of one is o.k.) If they choose to work with others, let them decide who they will work with and what they will explore. Choice creates buy-in and leads to increased success in small and whole group.
Read More About It: Giving Children Choices
Children are less distracted in small groups. Students are much more likely to become distracted during whole group instruction compared to instruction in a small group.
Read More About It: Study Finds School Distractions Significantly Affect Student Learning
For full day programs (example 6.5 hours) offer three 35-minute outdoor times per day. Some teachers find it easier to schedule two longer (50-minute) outdoor times. The Institute of Medicine and the USDHHS (U.S. Dept. of Health and Human Services) recommend children spend one quarter of their full-time day (15 minutes per hour scheduled) engaged in physical activity. A recently published study (2022) confirmed that the best opportunity for the type of physical activity needed is through outdoor play.
Read More About It: Total Play Time Needed for Preschoolers…
Consider holding small groups outdoors. There are so many benefits to taking groups outside, and not just for recess.
Read More About It: Rocking and Rolling. Fresh Air, Fun, and Exploration: Why Outdoor Play Is Essential for Healthy Development
Small Groups provide a way to use limited shared resources. When introducing math manipulatives, for instance, a teacher might have enough pattern blocks for 2-4 children, but not enough for all twenty to use at the same time.