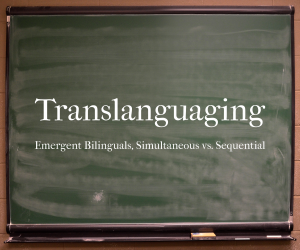 The History of Translanguaging 
In this video, Vivian Pratts explains the concept of translanguaging, which was coined by Welsh educator, Cen Williams. He developed a pedagogy for his students for receptive and productive use and how to deepen and extend their bilingualism.
Pratts shows a diagram of students' full linguistic repertoire that illustrate both Spanish features and English features. As bilinguals, linguistic features include phonemes, morphemes, syntactic rules, and discourse rules that people draw on to communicate. Bilinguals and multilinguals have linguistic repertoires from features that are used in one or more than one language. Furthermore, Pratts goes on to further dissect the internal and external views of social-cultural reality.
Click the link below to learn more about this
Pedagogy
in the follow-up video.